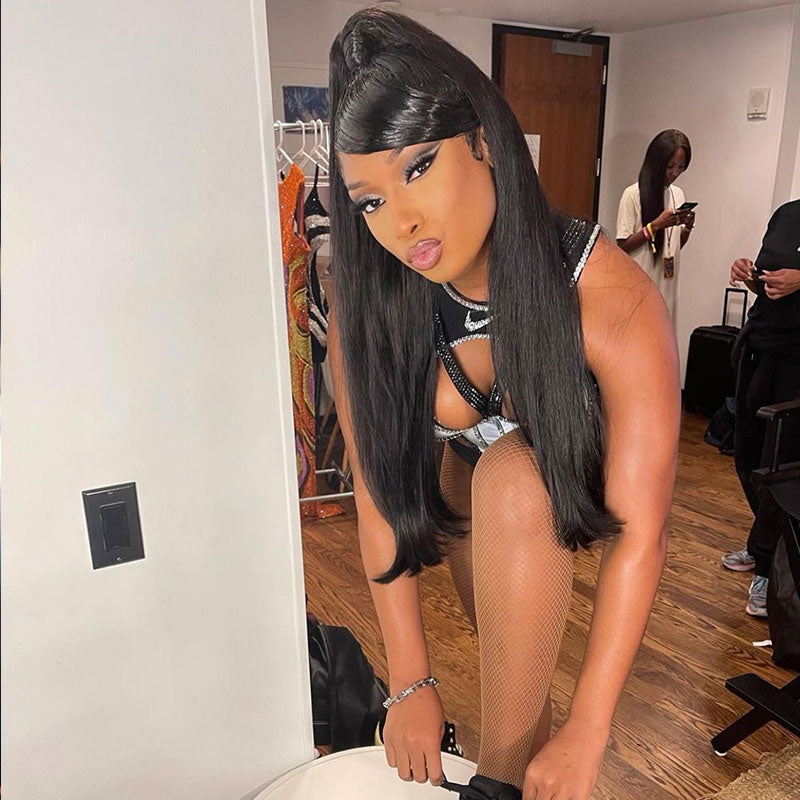 The Star-Studded Lineup of Nude Barre Fans: How Serena Williams, Doja Cat, & Other A-Listers Champion Inclusivity Through Their Choice of Apparel.
The realm of fashion and beauty has been in dire need of a makeover. If you look past the glossy sheen of revolving trends, you'll see that all that glitters isn't gold. For many, the fashion and beauty industries have been exclusive to sizes and shades outside of an obsolete eurocentric "beauty standard." That's why at Nude Barre we innovate through inclusivity, giving hu(e)mans of all complexions an opportunity to look and feel their best. Our high-performance intimates are made for every occasion; and our diverse array of products and shades have garnered support from many A-list celebrities. You'll see us spotted on tennis icon Serena Williams one day and pop superstars Lizzo, Doja Cat and Sza the next. We've also graced the legs of renowned entertainers such as Laverne Cox, Tyra Banks, and Wendy Williams. Keep scrolling for the low down on how these influential figures are amplifying our mission to provide inclusivity, body positivity, and diversity in their respective fields.
Lizzo and dancers performing in her Special tour in Nude Barre Opaque Tights and Fishnets.
Serena Williams: An Iconic Advocate for Inclusivity, On and Off the Court
We all know Serena Williams is the queen of the tennis court, but her regal reign doesn't stop at the arena. A champion of change beyond sports, her support of Nude Barre founder Erin Carpenter only magnifies her dedication to diversity. As seen below, Williams took tulle to another level with our signature fishnets in our 5PM shade. Her unwavering support has given our hues a platform through which hu(e)mans of all complexions can find their perfect shade match, and for that we are incredibly grateful. We are proud to have the greatest of all time in her true hue and in our corner.



Serena Williams competing in the U.S. Open in custom OFF WHITE and Nude Barre Fishnets. 
Embracing Ourselves with Nude Barre
Oh, and did we mention that our tights are red carpet ready too? Appearing on stages, silver screens, and glamorous galas, our hosiery is no stranger to renowned entertainers. Celebrities such as Tyra Banks, Laverne Cox, and Wendy Williams have proudly embraced their skin tones through our true hues. Mogul Megan Thee Stallion used our tights to give her legs an airbrushed finish on the Grammys red carpet, and TV Show host Star Jones used our opaque tights for a high definition ready look. In these high-profile settings representation is key, and supporting our brand's mission of diversity sends a powerful message of self-love and empowerment.
Laverne Cox on the red carpet in Nude Barre Fishnets. 
More Than Looks: Performing at the Highest Level 
What can we say? Our bodywear is a showstopper, and we love seeing our hues take center stage. The world's top entertainers need bodywear that is as high performance as they are. Beneath bright lights our invisible essentials shine, a sentiment you can see on stars such as Sza and Doja Cat. Our fishnets are even jet setting with Sza on her SOS tour and Lizzo on her Special tour!
Sza and Doja Cat performing at the Billboard Awards in Nude Barre Fishnets. 
A Lasting Impact: The Transformative Power of Celebrities Embracing Inclusivity. 
Our star power support has created a ripple effect throughout the fashion industry, promoting awareness and challenging exclusive norms. These celebrity cosigns push other brands to adopt similar values of diversity and representation. Seeing hu(e)mans perform life in Nude Barre on the grandest stages highlights the demand for inclusive products and prompts other industry leaders to reevaluate their inventory.
Megan Thee Stallion performing at the Grammy Awards in Nude Barre Fishnets. 
A Journey with Y(Hue) 
Our unwavering commitment to making the intimates industry a more inclusive space has elevated us to the highest echelons of performance. Our hope is that the support from familiar faces you know, and love prompts a dialogue about representation and forces the fashion and beauty industries to make major changes. We are being the change we want to see, and we thank y(hue) for being with us every step of the way.
DanceHall artist Spice sporting Nude Barre Opaque Tights.