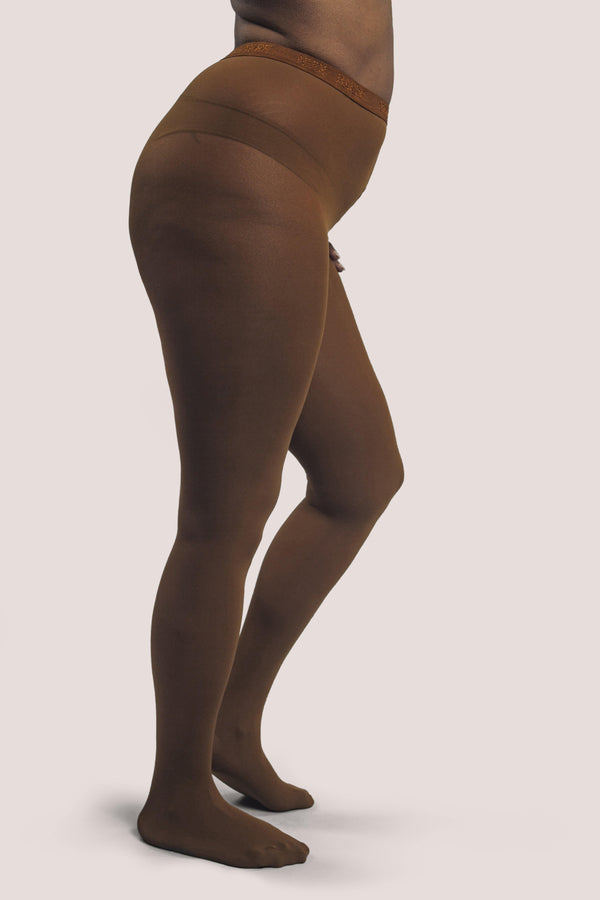 Camouflage Veins & Scars with Opaque Tights
Beauty marks come in all shapes and sizes. Our stretch marks, scars, veins, and birthmarks make us unique, which in turn only adds to our beauty. Skin conditions such as varicose veins and stretch marks are unjustly stigmatized through misinformation and unattainable beauty standards. The culmination of your story, manifested on your body, is nothing to be ashamed of, and Nude Barre wants you to be true to y(hue) and all of the idiosyncrasies that come with that. The first step in accepting our marks is understanding them. 
Varicose veins are valves that get enlarged due to malfunctioning blood flow, causing blood to pool in the vein. As scary as they sound, varicose veins are very common and usually only last for a few weeks, a few months at the most. Long compression socks and stockings can help increase circulation which reduces swelling and pain caused by varicose veins.


 Stretch marks come from the rapid stretching of the skin and can look different depending on your skin tone and the nature of the mark. Although they can be the source of insecurity, stretch marks are very common especially for pregnant women in their last trimester.


 You deserve to have options! A choice in whether you want to flaunt your marks or camouflage them for your own level of comfort. Luckily for you, we have compiled a list of our favorite products that give you the option of flaunting or camouflaging your beauty marks.


Compression socks can increase blood circulation which will reduce swelling and pain from varicose veins. Compression socks can also help with edema and shin splints. 


Click here to shop.
Dermablend provides industry standard body makeup that covers up varicose veins, scars, and tattoos in a few simple swipes.


Click here to shop. 
Sally Hansen's Airbrush Legs spray is the perfect way to get flawless coverage of veins, scars, or stretch marks for special occasions or photoshoots. 


Click here to shop. 
Temptu Airbrush foundation is a celebrity makeup artist staple, offering silicone based seamless coverage for the whole body and all skin types. 

Click here to shop. 
Shiseido's SYNCHRO SKIN Correcting GelStick Concealer is a travel friendly full coverage concealer perfect for use all over the body. 


Click here to shop. 


. Nude Barre's opaque tights offer full coverage in 12 signature hues of nude. By wearing your correct shade, and not a vague imagination of nude that subscribes to a one-size-fits-all format, you will have complete coverage that blends seamlessly with the skin. 


Click here to shop.