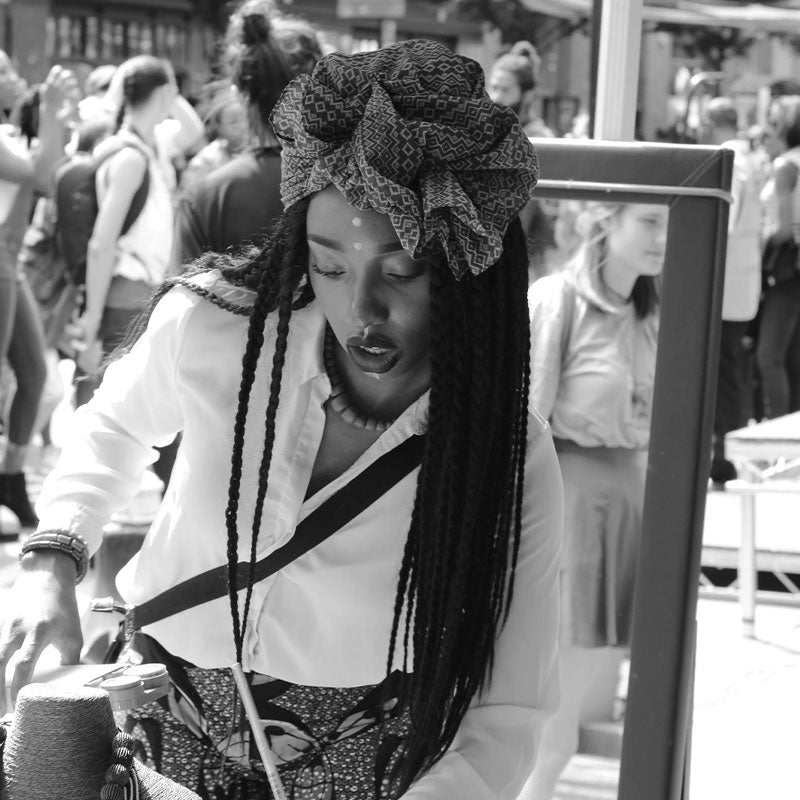 Black-Owned Brands We Love: Houston Edition | Nude Barre
Nude Barre is committed to facilitating diversity and inclusivity in all spaces, and a major component of that is spreading the love. This fall we're obsessed with Houston, and luckily for you we have a few (not so hidden) gems you'll be dying to visit on your next trip to the Lone Star State. So, what are you waiting for? Level up your life with our Houston based Black-owned favorites!
In 2013, Carla Bisong founded Bisong Art Gallery; a platform for lesser known and underrepresented artists to showcase their work. After years of juggling a career in finance whilst growing the gallery to its stature of today, Bisong now devotes her full attention to the exhibitions, workshops, classes, and receptions offered in her space. For Houstonians looking to buy, sell, or enjoy art, don't miss out on this Sterrett Street gem!
Hailing from a background in activism, Carla Lyles has used the arts to heal and uplift the Greater Houston area for many years (namely through grassroots organizations like The Haven, which brought the arts to Houston communities and homeless shelters). Coalescing her artistry and drive to uplift others, Lyles now utilizes her namesake business, Carla Sue, to provide fun greeting cards she hopes will destigmatize mental health. If you're looking for a little "yass" shop Lyles' cards online or in select stores! 
Incepted over 18 years ago at Natural Resources Salon, Earth's Nectar Hair Care is a naturally derived, cruelty-free, vegan beauty brand determined to promote healthy hair. On a mission to desegregate the beauty sector by providing options for all hair textures, Earth's Nectar is starting a wellness revolution one Vogue feature at a time. Order any of their cleansers, oils, shampoos, conditioners, moisturizers, and hair accessories on their ecommerce website! 
Kindred Stories is a Third Ward bookstore showcasing the genius of Black authors through their extensive collection of master works and devotion to curating a safe space for Houstonians. Offering book clubs, community programs, and author talks, Kindred Stories provides a meeting ground for both underrepresented authors and book lovers alike. If you're looking for your next great read, or some impulse buys in the form of "book swag," consider Kindred Stories your new Stuart Street mecca. 
In the mood for a little soul? Try Kulture! From Marcus Davis and the family that introduced the sensation, The Breakfast Klub, to Houston; downtown's new "urban comfort kitchen" is serving up reimagined Southern classics and platforms for talented Black chefs. Kulture's Black Chef Table dinners give Black purveyors and chefs a stage to showcase their skills to eager diners and Texas foodies. Perfect for swanky events, date nights, or one-of-a-kind dining from the upcoming stars of the food world, see what all the hype is about at this Lone Star treasure!
Originally a makeup store, LAMIK (Love And Makeup In Kindness) Beauty, grew from humble beginnings to a "2.0" beauty brand that offers clean, and non-toxic products for women of color. Offering a wide range of merchandise from glosses, foundation, mascara, to brushes, LAMIK's vegan and organic options are ideal for those of all skin types and textures. Take your beauty game up a notch with their various makeup tutorials, or take their brow quiz for personalized recommendations that will take your beat to the next level! 
Boasting both a Houston storefront and an e-commerce website, Lilly's Kloset has blossomed from its 2012 launch into a lifestyle brand followed by millions (literally, check their Instagram following). With the latest in all things fashion, and a curvy line offering flattering options up to size 3X, Lilly's Kloset is your one-stop-shop for easy ensembles and soiree worthy style. Utilize their in-store pickup option for easy access to their inventory, or visit their Hempstead Road boutique to see the magic in person! 
Love and Make offers friends, colleagues, and co-workers the chance to bond over creation. Founded by sisters-through-marriage Amara and Bukola, Love and Make provides hour and a half long classes in candle making, soap making, and bath bombs. Their rice village space also hosts parties, events, and virtual workshops. If you are in need of a creative way to both mix and mingle, try this Times Boulevard treasure!


MAW (Man And Woman) Supply is a vintage apparel store founded by husband and wife duo Rachelle and Norman Clark. Touted as a featured shop on Etsy's website, MAW Supply is proving that sustainability and style go hand-in-hand. Highlights in Harper's Bazaar, Refinery29, and The Houstonian, have only further cemented this secondhand store's success in and out of its Houston community. Shop their ecommerce website or Etsy store for one-of-a-kind, unisex finds! 


Started as a source of decompression from STEM education, Moonbeam Body Therapy has developed into a comprehensive clean beauty brand thanks to owner Mariel Thomas. Eco-friendly and cruelty-free, Moonbeam's oils and mists are also sustainably packaged in recyclable and compostable materials. Get your glow on with this Houston based, mental and physical maintenance brand! 


With a mission to inspire excellence, Onyii & Co.'s seasonal collections are the best of global fashion for the well-traveled woman. With a commitment to bring "the modern woman the gift of travel in every garment," Nigerian-born founder Onyii Brown brings her college degree and gift of entrepreneurship to the fashion industry through her namesake brand. Shop her latest Metamorphosis collection for breathable and bright pieces you can rock year round! 
Sweenshots x Shay Monae Studios
Sweenshots x Shay Monae Studios is a midtown photography studio curated for photographers, videographers, and influencers. This studio offers a lifestyle set up complete with a luxury kitchen, living area, and an array of colorful backdrops for various creative visions. Reserve studio time or join the membership club for access to this beautiful space in the heart of Houston. You can also shop their candle and/or studio collection for the best in Shea, Coconut, and artisanal decor!
With a tagline like, "people will stare, make it worth it," it's needless to say that Sken Essentials is determined to make your skin shine. Void of harsh chemicals, Sken was founded to promote smoothness, clearness, and firmness for all skin types. Offering serums, masques, oils, moisturizers, rollers, and elixirs, Skens day and night regimens will get your skin right and tight. You can order their extensive product line on their ecommerce website! 
Certified by Queen Bey, 3rdEyeView is dedicated to being a "small accessory with a big impact." Inspired by the spiritual concept of a "third eye," this altruistic brand is bringing more than style to its corner of the fashion world. Offering free eye exams, vision screenings, and eyewear to the underprivileged, 3rdEyeView is opening eyes about disparities in vision care and vision knowledge for disadvantaged communities. Shop their latest collection or donate to their non-profit, 3rdEyeView The Project, on their ecommerce website! 
Inspired by her own struggles with cystic acne, Karee Liang founded Ten Skyncare to provide natural ingredients for skin types of all ages, textures, and moisture levels. Using the highest grade of vitamins, minerals, and essential oils, Ten Skyncare's product breadth is natural, cruelty-free, non-GMO, and non-toxic. You can shop their merchandise by your skin type or even invest in a starter kit for a comprehensive skin care regimen. If you're looking for a noncommittal approach, try any of their products in compact, trial sizes until you find what works for you!