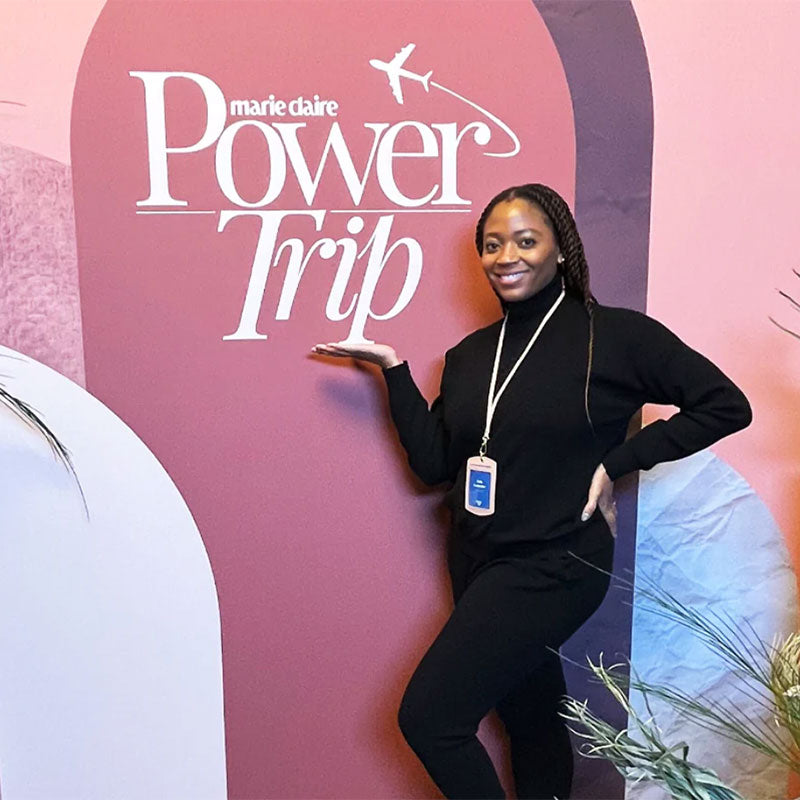 The Power Trip: 36 Hours with Marie Claire
What comes to mind when you think of a "power trip?" Is it money hungry men in suits stomping around a high rise? Is it women in pastel co-ords charging you $50 for a meditation journal on their Etsy shop? All of these things come to mind when one thinks of a power trip, but is it possible to reimagine what power looks like for women by women?




All of these questions had to be reeling in the minds of a diverse set of women boarding a private charter flight to Los Angeles. Disseminating from a range of entrepreneurial ventures, the best and brightest in business put on their proverbial blindfolds for 36 hours of non-disclosed Marie Claire madness. 


As Nude Barre founder, Erin Carpenter, muses on the day's happenings, she describes a flight abuzz with mutual adoration. Bubbly conversations fueled by prosecco and rose were framed by nail technicians, tarot card readers, beauticians, and a free power suit fitting. Once the private flight landed in the sultry, California sun, hours of testimonies from women striving for change in their respective industries took center stage.




Actresses like Jessica Chastain, Jessica Alba, and Emily Blunt enlightened the guests on the inequities of the entertainment industry, and how female led production companies are both breaking glass ceilings and making space for equal pay.


Many conferences and conversations inevitably skewed toward the current inflation crisis and recession plaguing all businesses, and how this phenomenon is disproportionately affecting Black and woman-owned businesses the most. The bleak circumstances, however, did not stop the honorees of the trip from holding each other up and whispering sweet nothings of encouragement into an all-too-worthy ear.




Reflecting on what made this trip so memorable Carpenter notes, "I think the personal thing that I enjoyed was meeting the women that are mission driven… because everyone I spoke to is so mission driven, they really had this attitude of it's hard but I'm going to be okay." A much-needed boost for the oftentimes lonely world of a founder, plagued with responsibility, but often not able to confide the pressures of business ownership to beloved employees. 


After the sparkly, Pilates-filled weekend drew to a close, Carpenter found herself highlighted in the glossy recesses of Marie Claire's magazine. In an article titled, 'How Hustle Culture Harms Women of Color Most,' writer Patrice Peck breaks down the hushed side conversations of the trips' female entrepreneurs into a comprehensive, intersectional feminist think piece.




Beyond the optimistic words and champagne wishes, the through line of the trip is the need for tangible change to happen for women in all industries. The advocates for this change are often charging the front-line touting baby bottles and a multitude of other things deemed outside the realm of the "power trip." But the battle cry so eloquently put by Carpenter seems to be this, "I'm not going to stop, I'm going to keep going." 



To read the full Marie Claire article click here.