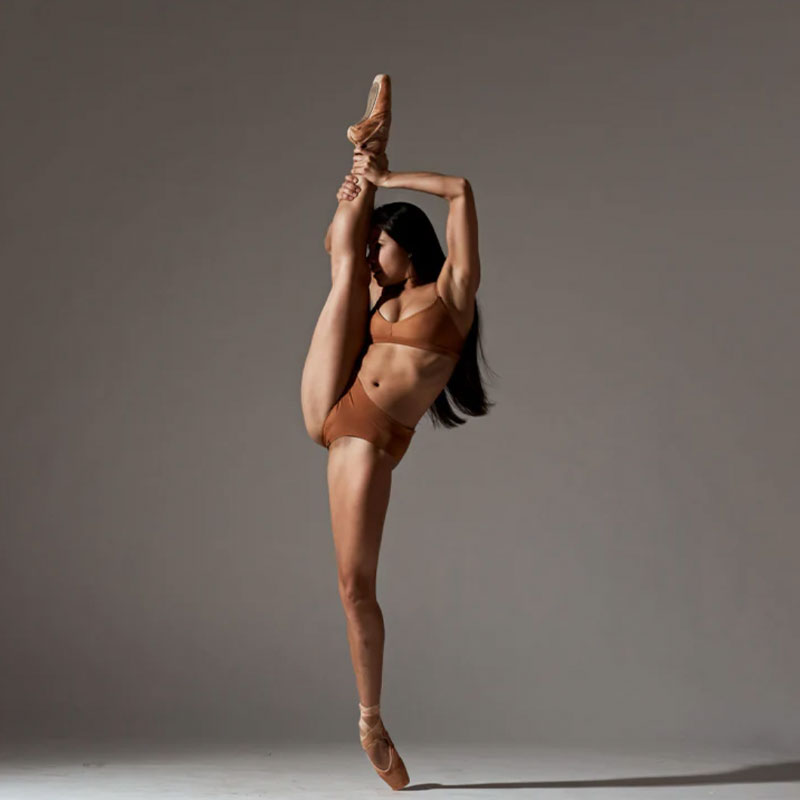 Back To Studio Essentials | Nude Barre
 Back to school burnout is real, and with hours of school supply shopping on the agenda, we're sure the studio is the last thing you want to worry about. Luckily for you, we've curated a list of dance essentials that will get you through the school year (and competition season) in your true hue. Let's take our look, and our legs, to new heights! 
Taking Jazz or Musical Theater classes this year? Try LaDuca jazz heels in their 4 hues of nude for height, support, and shade match! For optimal comfort, go for their 
Elizabeth 2.5 soft sole
 shoe with extra straps for sass and support. 
(model wears our 4PM hue) 
The multi-faceted nature of our convertible tights make them a perfect fit for any class. Roll them up for classes that require bare feet such as: modern, African dance, contemporary, and body conditioning, or roll them down for your other technique classes such as ballet and jazz. Little ones aren't left out either, try our children's tights for baby ballerinas! 
As floor work, and contemporary dance that incorporates floor work elements grows in popularity, it's important to protect your knees from impact. Try Bloch's pro-friendly knee pads for a dance appropriate, sleek option for knee protection. One of few brands that has an option for darker skinned dancers, try out their nude hues for a discreet look. 
(model wears our 4PM hue) 
Perfect for jazzy classes, performances, or photoshoots, fishnets are the perfect way to add flair to your costume or class attire. As dancers are prone to wear and tear, try our fishnets' durable and resilient design for tights that will last the whole year! 
Calling ballerinas of all hues, level up your shoe game with Bloch's new 5 shade, Tonal pointe shoe line. Complete with a satin finish, enjoy seamless, elongated lines without the added labor of pancaking your shoes. 
(model wears our 7AM hue)
Perfect for pairing underneath leotards, workout attire, or costumes, bikini panty's are a great way to enjoy comfort and coverage without the bulk. Our bikini panty's seamless design eliminates panty lines and bikini-line irritation for a truly stage ready look. Ensure your intimates stay intimate with our 12 hues of nude!
Capezio Hanami Canvas Ballet Shoes


Technique classes are a must at most dance studios, and ballet is usually the introduction most dancers have into the technical elements of the craft. Capezio's best-selling canvas shoe, the "Hanami" design, provides the flexibility and support you need to make it through a day of ballet. One of few ballet brands that offer different shades of nude, we recommend dancers of color try finding their shade match in this studio essential. 
(model wears our 3PM hue)
Physical activity requires support, and many female athletes and artists aren't provided proper support within their leotards or athletic wear. Bras with underwires or constricting compression can inhibit performance, so we recommend you go with a bralette that is both lightweight and durable for everyday. Our 12 hues of nude will ensure that your bralette stays hidden underneath costumes and class attire!
As ballet shoes and pointe shoes often don't come pre-sewn, it is important for dancers to have sewing kits handy at all times. Perfect for new shoes or emergency repairs, Tendu's dancers sewing kit has all the essentials while also remaining compact enough to stay in your never-ending-tote, or um– we mean dance bag. 
Pointe shoes require ribbons that are tied up the length of one's instep and ankle to keep the foot secure in the shoe and offer support for the dancer. As pointe shoes start to come in more diverse shades of nude (see Bloch's new Tonal pointe shoe line), ribbons must also follow suit. Try Suffolk's matte stretch ribbon for the comfort of elastic, and the seamlessness of satin, in three shades of nude.
(model wears our 4PM hue) 
Taking commercial dance or heels classes this year? Try Burju's Open Toe Cutout Bootie for both comfort and style while you take dance to new heights. Try their true nude colorway for elongated lines, and pair with Nude Barre for a truly seamless look!
You, plus Ovation's garment/duffle bag, is this year's biggest triple threat! Keep costumes organized and wrinkle-free in the garment bag, while shoes, makeup, and accessories can be stored (and not lost) in the duffle's many interior and exterior compartments! Your stage mom will thank you later…