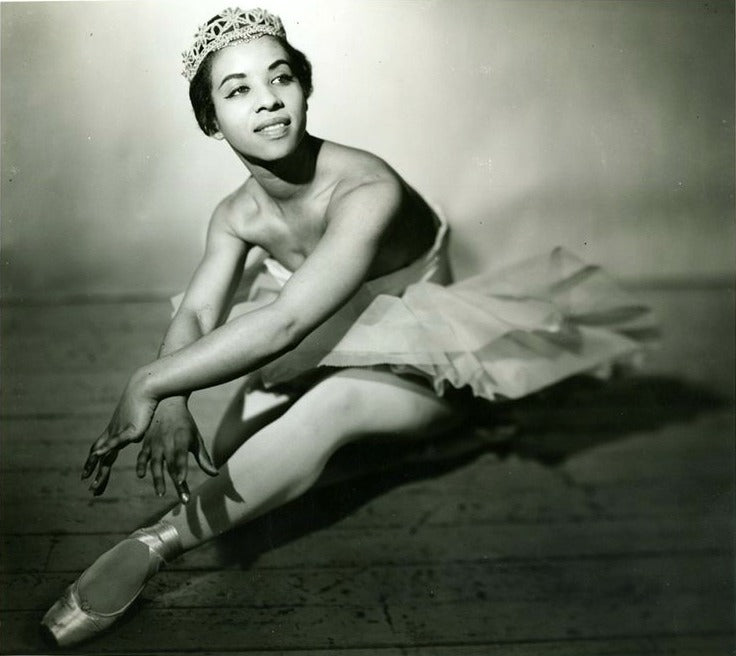 The Stars That Made Their Own Spotlight: Black Dancers Throughout History
History is brimming with unsung heroes, iconoclasts who broke the mold only to go under appreciated and undocumented. 

The bond that synthesizes modern day activists and artists like Misty Copeland with their predecessors is a spirit of perseverance that is specific to the Black experience.

A swagger, a rhythm, a beauty that is often imitated but never duplicated. 

As Black History Month brings these artisans, artists, and aspirations to the forefront, we thought it was only fitting to celebrate the stars that created their own spotlight on center stage. These tappers, shakers, ballerinas, and move makers deserve their long-awaited flowers, and we hope this inspires you to use your spark to light up the world.
William Henry "Master Juba" Lane
1825-1852


Born a free man, William Henry "Master Juba" Lane began his artistic career in Minstrel shows (which were then exclusively performed by white people) and became one of the first Black dancers to perform for white audiences. He rose to fame by combining the Irish jig with the African "patting juba" dance to incept what we now know as tap dance. Lane would later go on to open his own dance school in London. 


1878-1949


The highest paid Black entertainer during his prime, Bill "Bojangles" Robinson rose to stardom tap dancing, singing, and acting amongst Hollywood elite at the start of the 20th century. Beginning in Vaudeville, Robinson eventually ascended to Broadway, radio, television, and beloved Hollywood films, with stars such as Shirley Temple, Lena Horne, and Katherine Dunham. 

1906-1975


Josephine Baker was an African American entertainer that found fame and renown in France with her tantalizing Vaudeville act. Incorporating African styles of movement and (at the time) taboo costuming, her famed Danse Sauvage show made waves amongst white audiences. During World War II Baker joined the French resistance against the Nazi regime as a spy, and later worked as a civil rights activist back in the United States. Baker solidified herself in the global dance canon and the history books as a trailblazer in all aspects of her life.
1909-2006


Katherine Dunham was an African American dancer, choreographer, activist, anthropologist, and creator of the Dunham technique in modern dance. As the first African American woman to attend The University of Chicago, where she earned her doctoral degree in Anthropology, Dunham merged academia and the arts through her exploration of African roots and rituals in her choreography. Hailed the "Matriarch of Black Dance," Dunham dominated the concert dance world and the Hollywood scene, appearing in films such as Carnival of Rhythm and Stormy Weather.
1931-1989
Introduced to dance by the performances of the Ballet Russe de Monte Carlo and the Katherine Dunham Dance Company, Alvin Ailey began his dance training in Los Angeles through the tutelage of Lester Horton (Horton's company was one of the only racially integrated companies at the time). Becoming director of the Horton Company after his mentor's death, Ailey soon diverged to New York City, starring in Broadway musicals and eventually creating his own company the Alvin Ailey American Dance Theatre. Gaining worldwide renown through state-sponsored international tours, Ailey's company put modern dance and the Black experience on the map through original works such as
Revelations
and
Blues Suite
.
1917-2003
Hailing from New Orleans, Janet Collins was the first Black prima ballerina to perform with the Metropolitan Opera Ballet in New York City. Collins faced ample racism on her road to ballet stardom, she was once told by the Ballet Russe de Monte Carlo's then Artistic Director she would have to, "paint her skin white for performances," in order to dance with the troupe. After facing rejection from many classical ballet companies for the color of her skin, Collins found performance opportunities in Vaudeville, Broadway, and the Katherine Dunham Dance Company. At 34 years old, Janet Collins made her debut with New York's Metropolitan Opera Ballet and later taught ballet as a form of rehabilitation for the handicapped.
1919-1994
Born in Trinidad, Pearl Primus immigrated to the United States in 1921, where she would receive her bachelor's degree in biology and pre-med from Hunter College. After facing discrimination in the medical field, Primus started dancing for the National Youth Association's New Dance Group and the New York Men's Hebrew Association Group. Receiving a federal grant to study dance, Primus started her own dance troupe and brought her Caribbean lineage to both her choreography and teaching. After starting her own dance school, The Pearl Primus Dance Language Institute, and receiving her doctoral degree in dance education, Primus went on to present African dance around the country and teach ethnic studies at the Five Colleges consortium in Massachusetts. 


At 20 years old, Raven Wilkinson became the first African American dancer to land a contract with a major ballet company, the Ballet Russe de Monte Carlo based in New York City. After two rejections from the company's annual audition, then Artistic Director Sergei Denham allowed Wilkinson a spot as a soloist with the company on her third try. Facing racism on tour in the segregated South, Wilkinson was barred from staying at the same hotel as her peers when she refused to lie about her race. The Ku Klux Klan even interrupted a performance on the Southern tour by bolting on stage and asking for the "nigra," a sinister reminder of the violent racism rampaging the United States at the time. Wilkinson went on to leave America and dance with the renowned Dutch National Ballet. Wilkinson later moved back to New York City and became a mentor to American Ballet Theatre's first African American Female Principal Dancer Misty Copeland until her death in 2019.
1934-2018


Arthur Mitchell was the first African American dancer with New York City Ballet, where after a year, he was promoted to Principal dancer. Working with the famed "Father of American Ballet," George Balanchine, Mitchell pioneered some of the company's most famed works such as,
Agon pas de deux
and
A Midsummer Night's Dream
. After a successful run with the company, Mitchell went on to found the National Ballet Company of Brazil in Rio de Janeiro and co-founded the Dance Theatre of Harlem with mentor Karel Shook. Going on to win a MacArthur Genius Fellow, U.S. National Medal of the Arts, and the Heinz Award in Art and the Humanities, Arthur Mitchell solidified his icon status in the world of ballet.


1935-Present
One of the lesser-known pioneers of Black ballet dance, Delores Brown worked as a soloist for the New York Negro Ballet in 1957. On the receiving end of Philadelphia's progressive and accessible art scene in the 1940's, Browne studied dance at her school's ballet club. Browne went on to accept a scholarship to the Judimar School of Dance, where her mentor Marion Cuyet, pushed her to perform at the highest level. Browne went on to study at the renowned School of American Ballet in New York City, and later went on to dance with Ballet Americana (later the New York Negro Ballet), a ballet company of solely Black dancers.
Following the footsteps of Ballet prodigy Delores Brown, Judith Jameson capitalized on Philadelphia's burgeoning arts scene at the Judimar School of Dance. After critical acclaim for her work with choreographer Agnes de Mille at the American Ballet Theatre, Jameson went on to join the Alvin Ailey American Dance Theatre where she debuted her infamous solo Cry to international audiences. After performing as a guest artist with renowned ballet companies and exploring the Broadway scene, Jameson returned to Alvin Ailey American Dance Theatre as an artistic director where, after stepping down in 2011, she remains associated as artistic director emerita.
1952-Present


 Bill T. Jones is an African American dancer and choreographer who rose to fame through the Bill T. Jones/Arnie Zane company in the 1980's. After photographer, collaborator, and friend Arnie Zane passed away from AIDS related complications in 1988, Jones continued to work with the troupe through personal and heart wrenching creations inspired by Zane. Jones went on to create work for various ballet companies and Broadway productions, making him one of the most notable modern dance choreographers of our time. Jones continues to set work on his company and choreograph for Broadway Productions like his currently running show, Black No More, playing at the New Group Theatre.