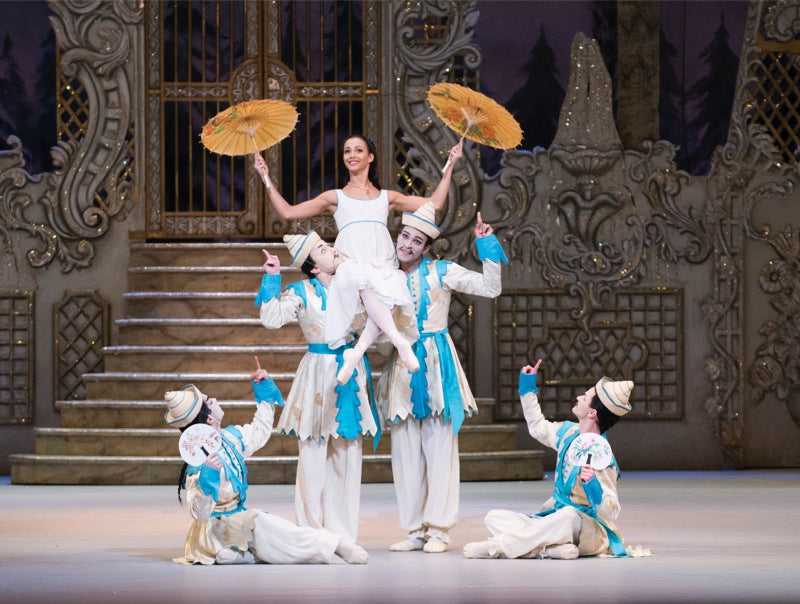 The Problematic Legacy of The Nutcracker: Why A Holiday Staple Has Gone Stale
Whether you know it or not, you've probably heard the dance of the Sugar Plum fairy echoing throughout your local supermarket this time of year. You've probably seen festive wooden nutcrackers line gift shop shelves, and I'll bet one made an unsolicited appearance as a stocking stuffer from that distant relative you haven't seen in years. The Nutcracker has become a staple of the holiday season, a greenlight to start splurging on overpriced eggnog and that new TV you've been eyeing. It also serves as the cash cow for many ballet companies around the globe, accounting for 40 percent of New York City Ballet's box office revenue. George Balanchine's version of The Nutcracker premiered at New York City Ballet in 1954 and marked a resurgence of the once failed ballet in the American cultural canon. With technical feats such as a growing tree and an onstage snow flurry, The Nutcracker gained popularity and became as American as apple pie. And of course, like most things that become quintessentially American, it has its host of problems...


(Kansas City Ballet's Chinese Tea Dance Photo courtesy of KC Ballet Media)

 As you journey into the second act, you will discover the "Land of Sweets," a cross-cultural fantasy that leaves many poc shifting in their seats. After a run in with the Mouse King our main protagonist, Clara, enjoys a global dance off courtesy of the Sugar Plum fairy. Throughout this act different cultures are used to represent their respective delicacies, the Chinese dancers bring tea, Spanish dancers bring chocolate, Arabian dancers bring coffee, and Russian dancers bring candy canes. The Chinese tea and Arabian coffee numbers breed the most criticism from modern day audiences, as yellowface makeup and offensive stereotypes are routinely used in these numbers. This prompts many to ask whether portraying different ethnic groups in ballet, a predominantly white curated and performed art form, is necessary or just plain offensive.

Straw hats, paper fans, and a dubious ponytail extension accompanied dancers of New York City ballet's previous iterations of the Chinese tea dance. Moscow Ballet's harem pants and bare midriff are still being used to evoke pseudo–Middle Eastern stereotypes for the Arabian coffee number (think Disney's Aladdin). These ethnocentric (evaluating other cultures through the standards of one's own) conceptions of Chinese and Arabian cultures not only appropriate customs and traditional dress, but also dilute these complex cultures into caricatures. As the dance world diversifies, many are calling out these offensive aspects of The Nutcracker and are asking companies to stop perpetuating racist stereotypes through costume and choreography choices.
(Photo of Bay Pointe Ballet's Arabian Dance courtesy of
Stan Olszewski
)


Some companies are making a concerted effort to rebrand some of the more offensive parts of their Nutcracker production. Ballet West has changed aspects of the Chinese Tea number to replicate actual Chinese traditions, a step away from appropriation and hopefully toward appreciation. The New York City ballet has followed suit and exchanged the ponytail wigs and offensive choreography for a more appropriate take on Chinese cultural customs. With a not-so-discreet nudge from dance administrator Phil Chan and New York City Ballet soloist Georgina Pazcoguin via the Final Bow for Yellowface campaign, many companies have pledged to stop the dehumanization of Asian characters in their performances. 
(Photo of Birmingham Royal Ballet's Chinese Tea dance photo courtesy of Dave Morgan)


It has become achingly clear that
The Nutcracker
is just a few Christmases away from a PR nightmare. If companies wish to modernize and adapt to growing social consciousness, they must reinvent the offensive parts of this production to celebrate the cultures they wish to portray. This requires the elimination of yellowface, offensive choreography, and stereotypical costuming in the production.

It is also important to note that everybody shares the responsibility of dismantling racist practices in the arts. Your power lies in your wallet, only pay to see shows that are making a conscious effort to change dehumanizing narratives about minorities in ballet. To sign the pledge against yellowface and discover which ballet companies have vowed to eradicate the practice in their performances click here.