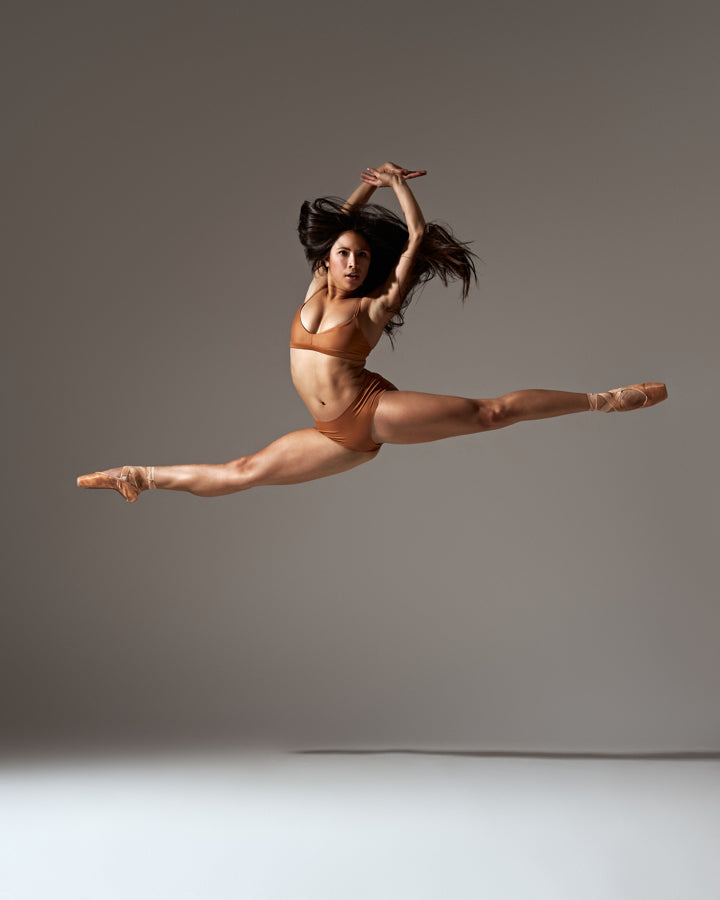 Dance Essentials for the Gig Economy: What's In Our Bag?
Modern day dancers need to have an arsenal of dance diversity tucked into their bag to stay competitive. Find out our top picks for essentials to have.
Today's artists are packing more than ambition in their tote.
The modern day dancer needs to have an arsenal of dance diversity tucked into their bag to stay competitive in an ever burgeoning gig economy. 
Job scarcity has become ever prevalent in the current COVID landscape, and the pressure to find work has found dancers leaning on versatility in the hopes of finding a job. This phenomenon is described as the gig economy, a market in which short term contracts and freelancing are more prevalent than long term work environments. With the freelance dance market on the rise and the pre-professional school to company pipeline proving obsolete, today's dancers need to be ready for
anything
.
Have no fear, Nude Barre is here with a fail proof kit to keep you ready and radiant all audition season long!
Water Bottle

The first must have in a dancer's bag is a water bottle. Hydration is key because dehydration can lead to injury, soreness, and other medical conditions. 

https://quokkaproducts.com

 
Shoes

Make sure to pack a variety of shoes that are compatible with erratic audition and call back scheduling.Jazz and ballet shoes are recommended for concert work, while tap shoes work well for musical theatre, and socks fit trendy, contemporary ideations. 

https://www.laducashoes.com/collections/laduca-palette-1

 
Tights Nude Barre's variety of tights and undergarments are essential for a dancer on the go! Black flatters and streamlines the body, while bodywear in your unique hue will add barely there coverage under dance wear. Make sure to pack both your hue and our 12am shade, so that you have the versatility needed to brave both the classroom and call backs.



 

https://nudebarre.com/collections/convertible-opaques

 
Pain Relief Ibuprofen and any sort of cool, pain relieving gel are perfect for achy joints and minor pains throughout the day. Keep these items in your bag to ensure that nothing stands in the way of your next big gig! 



https://www.biofreeze.com

 
Tennis Ball Rolling muscles out with a tennis ball is a great way to break down lactic acid buildup in muscles and relieve soreness. Rolling out is also great for warming up as it releases muscle tension and prepares the body for physical activity.

 

https://www.tennisexpress.com/tennis-balls

 
First Aid For a little self care, make sure to bring bandaids and toe tape to prevent blisters and bunions. Foot care is essential for dancers to prevent further injuries, for a little extra tlc try Nude Barre's footed opaque tights for extra protection against rubbing and irritation. 



https://www.band-aid.com/products/our-tone/flexible-fabric-adhesive-bandages-br-45-30-ct

 
. 
Hair Care Pesky flyaways and stray hairs can be distracting in an audition, to keep both your bag and mane call back friendly; make sure to pack a spare brush, ponytail holders, hair gel and/or hairspray. 



https://www.rockettes.com/blog/the-best-hair-helpers-for-dancers/

 
Make Up Kit Touch ups are essential after class or in between rounds of an audition! Make sure to pack a small makeup kit with all of the essentials: powder for shine, mascara for definition, lipstick for drama, and contour to define the shape of your face. 



https://www.dancespirit.com/long-lasting-makeup-for-dancers-2623666321.html

 
Spare Outfit Sweaty clothes aren't the best way to make a first impression, dancers on the go should bring spare garments in case of emergencies. A spare leotard, leggings,  Nude Barre opaque tights, and bralette are great contingency plans if you find yourself in a bind! 



https://nudebarre.com/collections/bralette

 

https://www.yumiko.com/us_en/women/personalized/leotards.html

 
Knee Pads New, athletic ways of moving often require dancers to do complex floorwork that can wreak havoc on the legs. Knee pads are great for injury prevention and protecting the skin from scrapes and floor burns. Make sure to keep a pair in your bag to ensure your safety in classroom and audition environments.

 

https://us.blochworld.com/products/pro-dance-knee-pads-cocoa

 
Sewing Kit Often, canvas ballet shoes and pointe shoes do not come with ribbons pre-sewn, the responsibility falls on the dancer to make the shoes class ready. Dancers should pack a sewing kit in their bag in order to prepare their shoes, with the added benefit of knowing they are covered if a fashion mishap takes place. 



https://us.movedancewear.com/tendu-dancers-sewing-kit-p5142/